Have you ever wondered where your food comes from? Not just where it's grown today, but where it originally popped up in the world? Have you ever bit into a delicious ripe fruit and wondered, hey – why is it this color? What's responsible for this amazing flavor? Is this good for my health? Could it even be medicinal?
Subscribe to the Podcast on iTunes or SoundCloud.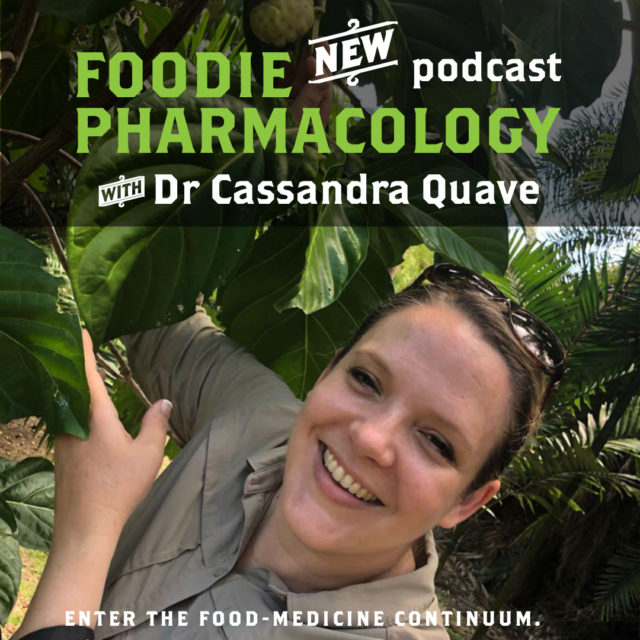 Foodie Pharmacology is a food podcast built for the food curious, the flavor connoisseurs, chefs, science geeks, foodies and adventurous taste experimenters out in the world! So, join me on this adventure through history, medicine, cuisine and molecules as we explore the amazing pharmacology of our foods. Series Preview.
List of Episodes
EP 28: Ancient Medicine with Alain Touwaide
EP 27: A Feast of Fungi with Daniel Butler
EP 26: Just the Tonic with Kim Walker and Mark Nesbitt
EP 25: Share a dram with Whisky Master Gordon Motion
EP 24: Haggis and the new Scottish cuisine with Ben Reade
EP 23: Enter the "Blue Zone" with Lukasz Cielsa
EP 22: Botany at the Bar: Bitters, shrubs, syrups and more!
EP 21: Can an apple a day keep the doctor away?
EP 20: Chatter in your cheddar? Microbe cross-talk just got interesting!
EP 19: "The Sioux Chef" Sean Sherman, Labrador Tea and Indigenous Eats
EP 18: A Walk in the Garden of American Eden with Victoria Johnson
EP 17: Tomatoes! The Aztec Secret to the Mediterranean diet?
EP 16: A Hot Cup of Oregano…. What?
EP 15: Salep! The Edible Orchid with Susanne Masters
EP 14: Mango, the King of Fruits!
EP 13: Green Cardamom – the Queen of Spices!
EP 9: Blame it on Cain… Sugar Cane
EP 8: Turmeric, the Golden Spice
EP 7: Rosemary is for Remembrance
EP 5: Reading Tea Leaves with Seth Goldman
EP 4: Miracle Fruit: A Miracle in my Mouth!
EP 3: Cassava: Poison on my Plate?
EP 2: Coffee: Wine of the Bean