Salep! The Edible Orchid with Susanne Masters
Episode Link: iTunes and SoundCloud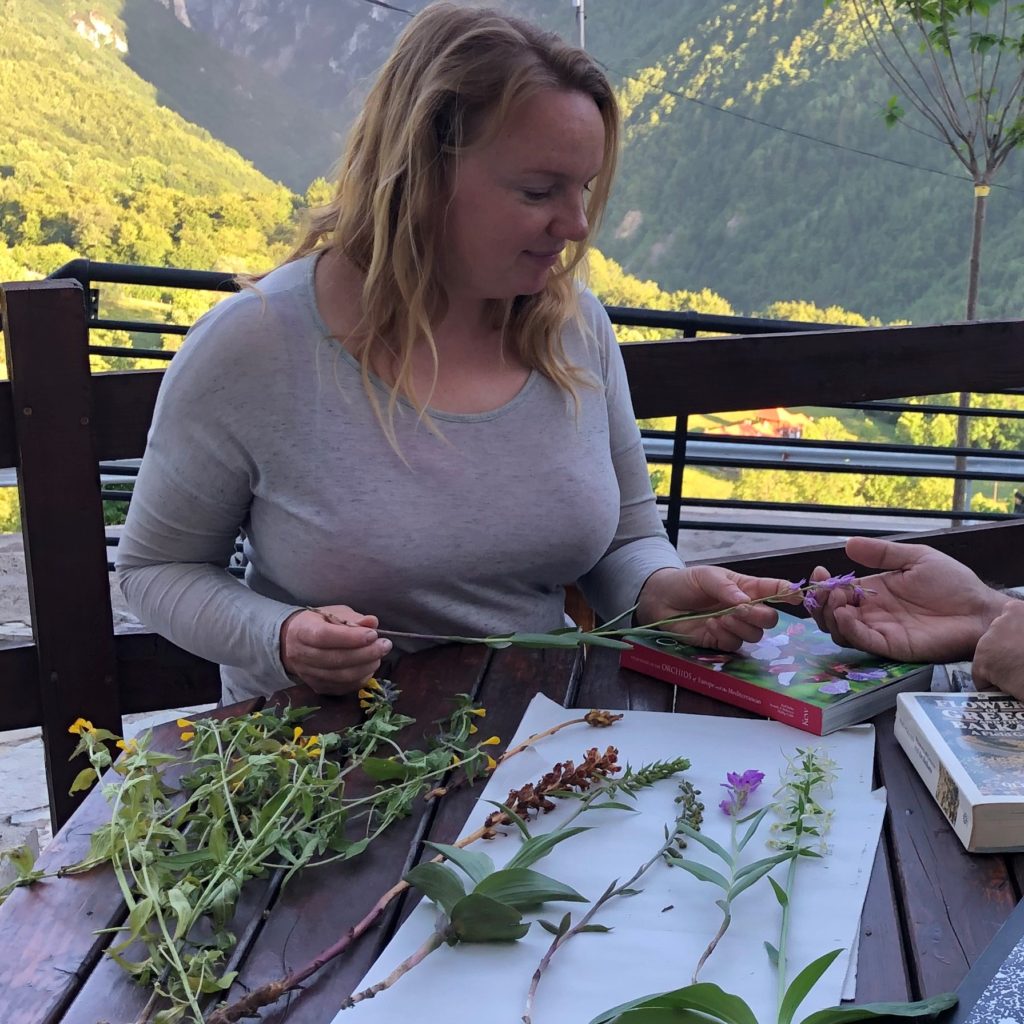 Orchids are a plant lover's delight – they bring this amazing level of beauty to home interiors and gardens. In the Eastern Mediterranean, spanning the Balkans and Anatolia, there are some species found in the wild that also serve as a special food ingredient known as salep. In this episode, I join an orchid expert in the Balkans to learn more.
About Susanne Masters
Susanne Masters works on botanical ingredient selection and sourcing for distilleries and skincare companies – catching landscape and local culture within a bottle for the Boatyard Distillery, Isle of Harris gin and other distilleries, and taking endangered species out of cosmoceuticals. She writes about botanicals for the American Distilling Institute. As an ethnobotanist working on research at Naturalis Biodiversity Center and University of Leiden Susanne is interested in uses of orchids as resources. Bearing in mind threats to wild plant populations caused by their social and economic values Susanne investigates options for supporting livelihoods while maintaining wild plant populations, and possibilities presented by horticultural propagation and cultivation. Her research has significant applications for the conservation of biodiversity, livelihoods tied to wild harvesting, and of traditional foods and medicines. Susanne is a member of the IUCN Species Survival Commission Medicinal Plant Specialist Group, and the IUCN SSC Orchid Specialist Group.
@Ethnobotanica on Twitter
@mastersmiss on Instagram
Website: http://susannemasters.com/
About Cassandra Quave
Prof. Cassandra Quave is best known for her ground breaking research on the science of botanicals. Scientists in her research lab work to uncover some of nature's deepest secrets as they search for new ways to fight life-threatening diseases, including antibiotic resistant infections. Working with a global network of scientists and healers, Cassandra and her team travel the world hunting for new plant ingredients, interviewing healers, and bringing plants back to the lab to study. Besides research, Cassandra is an award-winning teacher, and has developed and taught the college classes "Food, Health and Society" and "Botanical Medicine and Health" at Emory University.
@QuaveEthnobot on Twitter
@QuaveEthnobot on Instagram
@QuaveMedicineWoman and "Foodie Pharmacology with Cassandra Quave" on Facebook
Keywords
#orchid #Orchidaceae #dessert #medicinalfood #foodie #pharmacology #food #FoodiePharmacology #iamabotanist #healthyliving #botany #Emory #science #STEM #healthfood #healthy #podcast #WomenInSTEM #WomenInScience #cuisine #medicine #healthyliving #chef #cuisine #food #plant #botany #ethnobotany #taste #flavor #FoodPhotography #ForkYeah #Foodgasm #Eeeeeats #FoodInTheAir #Delish #icecream #EatingForTheInsta #CleanEating #FoodNews #history #nutrition #delicious #tea #salep