Tomatoes! The Aztec secret to the Mediterranean diet?
Episode Link: iTunes and SoundCloud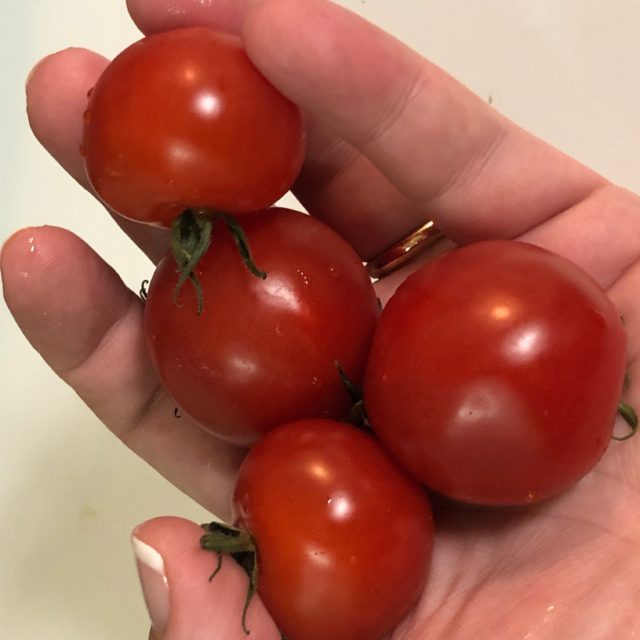 Some call them a fruit, some call them a vegetable – I call them juicy, red and delicious! How is it that a crop from a poisonous plant family came to pervade our salads, soups and sauces across numerous cuisines? What makes the tomato a healthy food ingredient and how can you capture its best benefits? We'll be exploring the fascinating history and pharmacology of one the world's top ten crops in this 17th episode of Foodie Pharmacology.
About Cassandra Quave
Prof. Cassandra Quave is best known for her ground breaking research on the science of botanicals. Scientists in her research lab work to uncover some of nature's deepest secrets as they search for new ways to fight life-threatening diseases, including antibiotic resistant infections. Working with a global network of scientists and healers, Cassandra and her team travel the world hunting for new plant ingredients, interviewing healers, and bringing plants back to the lab to study. Besides research, Cassandra is an award-winning teacher, and has developed and taught the college classes "Food, Health and Society" and "Botanical Medicine and Health" at Emory University.
@QuaveEthnobot on Twitter
@QuaveEthnobot on Instagram
@QuaveMedicineWoman and "Foodie Pharmacology with Cassandra Quave" on Facebook
Recipe: Pasta con il pesto Trapanese
Ingredients:
Vine-ripened tomatoes (500 grams)
Fresh basil (10 leaves)
Garlic (1-2 cloves)
Pecorino cheese, grated (100 grams)
Almonds, raw, unsalted (30 grams)
Extra virgin olive oil
Salt
Pepper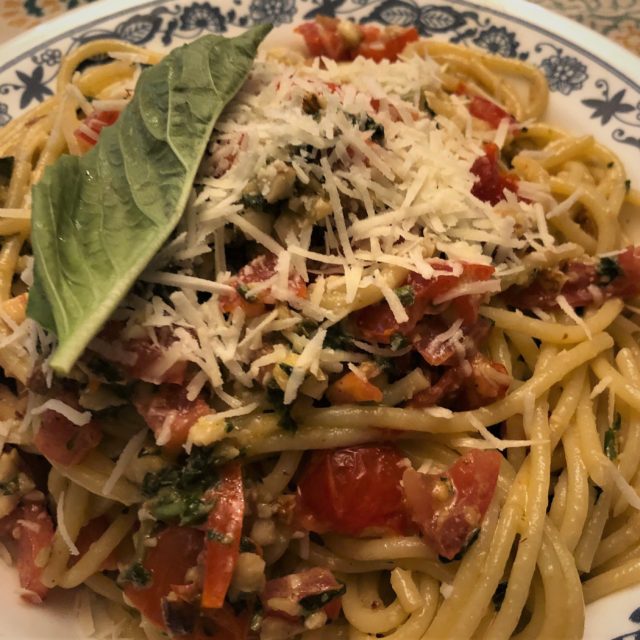 Instructions: Put a pot of water on the stove to boil, once it begins boiling, add a small handful of rock salt or kosher salt to it. In the meantime, take the basil, garlic, almonds and a tablespoon of oil and grind in a mortar and pestle. You can also do this step in pulse mode in a food processor.
Transfer the pesto to a large bowl and mix in your pecorino cheese and some more olive oil – a couple of table spoons. Add a few grinds of whole black pepper. Remove the seeds and liquid from tomatoes and chop. Mix these with the pesto. Cook pasta until al dente, drain it, then mix with the tomato and pesto pix. Top it off with a fresh basil leaf and some grated pecorino.
Keywords
foodie, pharmacology, healthy eating, Central America, Solanaceae, tomato, juicy, lycopene, anti-inflammatory, antioxidant, anticancer, carotenoids, Italian cooking, Sicily, recipes, cuisine, healthy living, botanicals, podcast, botany, ForkYeah, delish, FoodNews, nutrition, delicious, chef, healthfood