A Walk in the Garden of American Eden with Victoria Johnson
Episode Link: iTunes and SoundCloud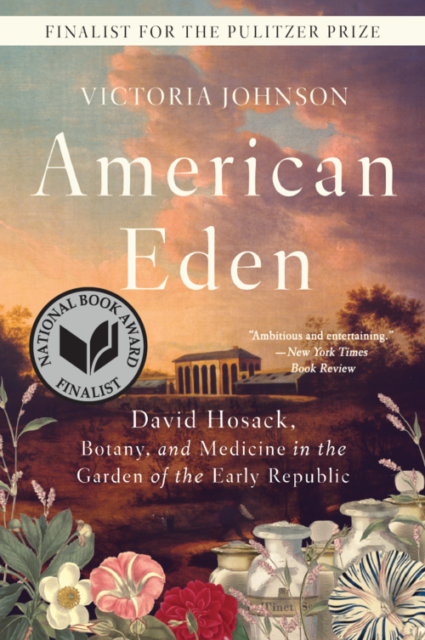 In the early days of the foundation of the American republic, a charismatic dreamer with a love for plants and medicine made his mark on the world by establishing the country's first public botanical garden. He would go on to grow more than two thousand species on a 20 acre plot of land where he taught medical students about the healing virtues of plants and conducted pharmaceutical and crop research. Join me as I meet with author Victoria Johnson to discuss her award winning biography of the physician botanist, Dr. David Hosack.
About Victoria Johnson
Victoria Johnson is a former Mellon Visiting Scholar at the New York Botanical Gardens and is currently an associate professor of urban policy and planning at Hunter College in New York City, where she teaches on the history of philanthropy, nonprofits, and New York City. She holds a doctorate in sociology from Columbia University and an undergraduate degree in philosophy from Yale.
Her book, "American Eden: David Hosack, Botany, and Medicine in the Garden of the Early Republic" was a finalist for the 2019 Pulitzer Prize in History and finalist for the 2018 National Book Award in Nonfiction. American Eden was acclaimed as a New York Times Notable Book of 2018.
@VSJohnsonNYC on Twitter
@VictoriasAmericanEden on Instagram
About the Book: American Eden
When Dr. David Hosack tilled the country's first public botanical garden in the Manhattan soil more than two hundred years ago, he didn't just dramatically alter the New York landscape; he left a monumental legacy of advocacy for public health and wide-ranging support for the sciences. A charismatic dreamer admired by the likes of Jefferson, Madison, and Humboldt, and intimate friends with both Hamilton and Burr, the Columbia professor devoted his life to inspiring Americans to pursue medicine and botany with a rigor to rival Europe's. Though he was shoulder-to-shoulder with the founding fathers―and even present at the fatal duel that took Hamilton's life―Hosack and his story remain unknown. Now, in melodic prose, historian Victoria Johnson eloquently chronicles Hosack's tireless career to reveal the breadth of his impact. The result is a lush portrait of the man who gave voice to a new, deeply American understanding of the powers and perils of nature.
Website: https://www.americaneden.org/
About Cassandra Quave
Prof. Cassandra Quave is best known for her ground breaking research on the science of botanicals. Scientists in her research lab work to uncover some of nature's deepest secrets as they search for new ways to fight life-threatening diseases, including antibiotic resistant infections. Working with a global network of scientists and healers, Cassandra and her team travel the world hunting for new plant ingredients, interviewing healers, and bringing plants back to the lab to study. Besides research, Cassandra is an award-winning teacher, and has developed and taught the college classes "Food, Health and Society" and "Botanical Medicine and Health" at Emory University.
@QuaveEthnobot on Twitter
@QuaveEthnobot on Instagram
@QuaveMedicineWoman and "Foodie Pharmacology with Cassandra Quave" on Facebook
Keywords
foodie, pharmacology, healthy eating, cuisine, healthy living, botanicals, podcast, botany, botanic garden, garden, America, American history, Hosack, Hamilton, medicine, book