Share a dram with Whisky Master Gordon Motion
Episode Link: iTunes and SoundCloud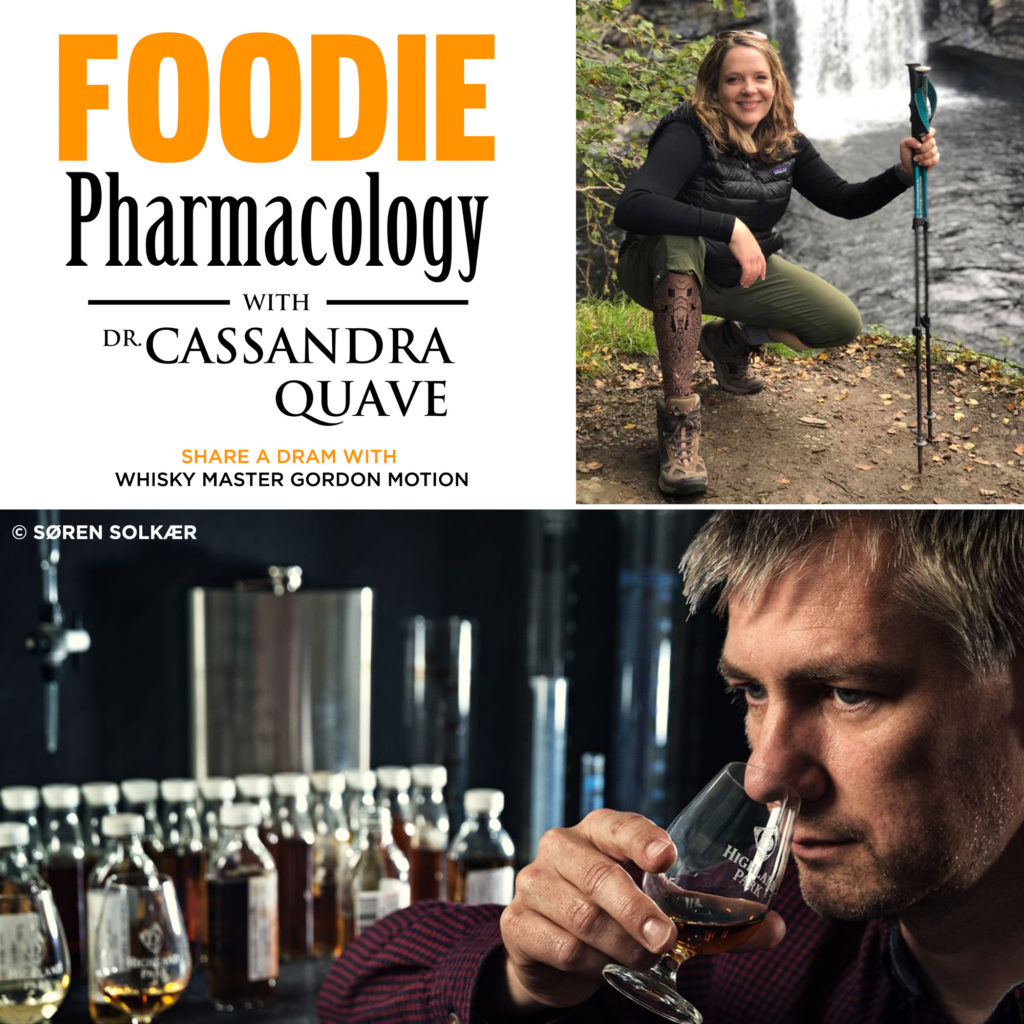 Though its ingredients core are simple – barley, yeast and water – the final product that comes about after years of aging is incredibly unique. The distinctive flavor of Scotch whisky is influenced by the way it is malted, how the malt is dried, the distillation process, and lastly the aging process! The type of wood and its prior use in former casks – whether for sherry or bourbon – also influences the final flavor. Whisky is an amazing case study in how plant chemistry and extraction methods influence the chemical character of the final product! In this episode, I dive into the chemistry and flavor of one of my favorite spirits and speak with Gordon Motion, the master whisky maker for Highland Park.
About Gordon Motion
Gordon Motion, Highland Park Whisky Maker – a postgraduate in malting, brewing and distilling from the International Centre for Brewing and Distilling at Heriot Watt University, Edinburgh – has worked in the beverage industry his entire career and in the Scotch whisky industry in particular, since 1998.
Before venturing into the world of Scotch whisky, Gordon held a number of positions with some well-known breweries including Mount Murray (Isle of Man); Tom Hoskin's (Leicester); Belhaven (Dunbar), before becoming assistant maltster with Pauls Malt Glenesk Maltings at Montrose. He then joined Edrington in 1998 and has had experience working on all Edrington brands including The Macallan, The Famous Grouse, Glenrothes and Glenturret.
Today, his main role is Master Whisky Maker for Highland Park. As well as the day-to-day job of ensuring the quality of our whisky – from new make spirit through maturation, blending and finally into bottle – Gordon is extremely busy developing and crafting new whiskies for the brand, a very important aspect of the role.
Outside of work, Gordon also uses his craftsmanship skills in DIY projects. Not only has he designed and built his own house, he is currently involved in designing and creating a bespoke sample room at the Highland Park distillery on Orkney!
A true, skilled master with an eye for detail.
About Cassandra Quave
Prof. Cassandra Quave is best known for her ground-breaking research on the science of botanicals. Scientists in her research lab work to uncover some of nature's deepest secrets as they search for new ways to fight life-threatening diseases, including antibiotic resistant infections. Working with a global network of scientists and healers, Cassandra and her team travel the world hunting for new plant ingredients, interviewing healers, and bringing plants back to the lab to study. Besides research, Cassandra is an award-winning teacher, and has developed and taught the college classes "Food, Health and Society" and "Botanical Medicine and Health" at Emory University.
@QuaveEthnobot on Twitter
@QuaveEthnobot on Instagram
@QuaveMedicineWoman and "Foodie Pharmacology with Cassandra Quave" on Facebook
Keywords
foodie, pharmacology, cuisine, healthy living, botanicals, crops, domestication, podcast, botany, ForkYeah, delish, FoodNews, delicious, recipe, Scotland, whisky, malt, barley, alcohol, spirits, malt, cask, single malt