Just the Tonic with Kim Walker and Mark Nesbitt
Episode Link: iTunes and SoundCloud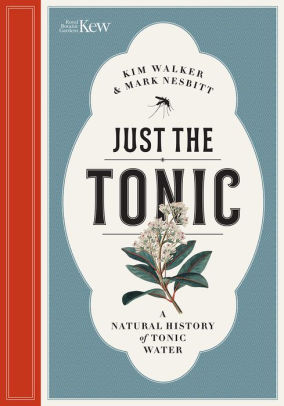 The word "tonic" elicits thoughts of something bitter, beneficial to health, or perhaps even a favored cocktail base. When it comes to tonic water, the bitter tasting alkaloid "quinine" is the key ingredient – and it has a fascinating history. You may know that quinine was used in the battle against malaria – but did you know that the pairing of gin with tonic came long after years of consuming it with brandy, rum or wine? On this episode, I speak with Kim Walker and Mark Nesbitt – the authors of a new book on the topic of tonic, entitled Just the Tonic.
About Just the Tonic: A Natural History of Tonic Water
Did you know that tonic water was originally consumed as a digestive? And that quinine, the bitter tasting alkaloid that flavours tonic water was first mixed with brandy, rum or wine, rather than gin as the common belief states. Just the Tonic reveals the colourful history and truth behind the myths of this everyday drink.
Authors Kim Walker and Mark Nesbitt take us on a journey from the discovery of quinine, an antimalarial extract from the bark of the cinchona tree that soon became a tool of empires, to the origins of gin and tonic and its rise and fall, and rise again to current popularity. The book also includes cocktail recipes inspired by historical events, and is beautifully illustrated throughout with archival posters, advertisements, photographs and botanical art.
UK book link: https://shop.kew.org/justthetonic
US book link: https://www.press.uchicago.edu/ucp/books/book/distributed/J/bo45864047.html
About Kim Walker
Kim Walker trained as a medical herbalist, and now specializes in the history of plant medicines. She is currently working on a PhD on cinchona at the Royal Botanic Gardens, Kew and Royal Holloway, University of London. She is on the committee of the Herbal History Research Network, the British Society for the History of Pharmacy and is a member of the Association of Foragers. She is the co-author of The Handmade Apothecary (Kyle Books, 2017) and The Herbal Remedy Handbook (Kyle Books, 2019).
@kim_wyrt on Twitter
@kim_walker_research and @handmade_apothecary on Instagram
Website: www.kimwalkerresearch.co.uk
About Mark Nesbitt
Dr. Mark Nesbitt is curator of the Economic Botany Collection at the Royal Botanic Gardens, Kew. His research centres on botany and empire in the 19th Century, and on the history and current-day relevance of botanical collections. He is the co-author of Curating Biocultural Collections (Kew Publishing, 2014) and The Botanical Treasury (Andre Deutsch, 2016). Mark is a Visiting Professor in the Department of Geography, Royal Holloway, University of London.
@economicbotany on Twitter
Website: www.marknesbitt.org.uk
About Cassandra Quave
Prof. Cassandra Quave is best known for her ground breaking research on the science of botanicals. Scientists in her research lab work to uncover some of nature's deepest secrets as they search for new ways to fight life-threatening diseases, including antibiotic resistant infections. Working with a global network of scientists and healers, Cassandra and her team travel the world hunting for new plant ingredients, interviewing healers, and bringing plants back to the lab to study. Besides research, Cassandra is an award-winning teacher, and has developed and taught the college classes "Food, Health and Society" and "Botanical Medicine and Health" at Emory University.
@QuaveEthnobot on Twitter
@QuaveEthnobot on Instagram
@QuaveMedicineWoman and "Foodie Pharmacology with Cassandra Quave" on Facebook
Keywords
foodie, pharmacology, cuisine, healthy living, botanicals, Kew gardens, podcast, botany, ForkYeah, delish, FoodNews, delicious, recipe, cocktail, alcohol, gin, tonic, cinchona, Andes, soda water, history of medicine, malaria, quinine, antimalarial