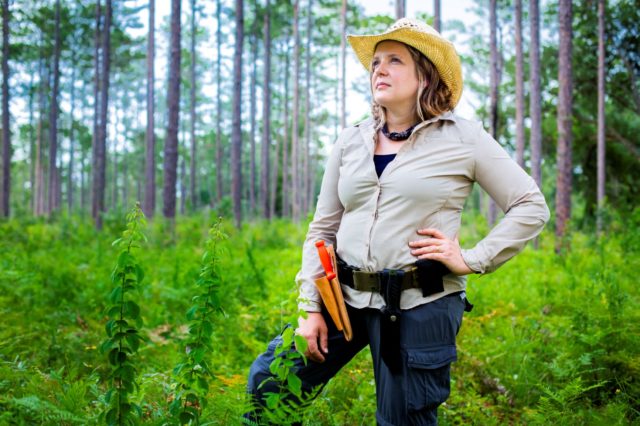 The Quave Research Group is featured in the March 2020 cover of Georgia Magazine and the February 2018 cover feature of BBC Focus and the September 2017 print issue of National Geographic Magazine. We were also recently featured in the New York Times Magazine and the NPR programs "On Point" and "Big Picture Science" . Did you know that Dr. Quave has a podcast? Check out Foodie Pharmacology to learn more about the history, chemistry and medicinal potential of our foods!
Want to support our research? Visit this page to make tax-deductible donations to the Quave Research Group. Want to book Dr. Quave for a keynote, consulting services, or a research contract? Visit this page for details on how to place an inquiry.
Our Research Mission

The Quave Research Group at Emory University is composed of an interdisciplinary team of scientists who are passionate about translational science geared towards the improvement of human health. Our research group takes the ethnobotanical approach to drug discovery. Ethnobotany is the study of human interactions with plants. This can include anything from the use of plants for medicine, food, shelter, construction, art, crafts, and more. The focus of most ethnobotanical research is with traditional societies that incorporate wild plants into their daily life.
We study the botanical ingredients used in traditional medicines for infectious disease to discover new solutions for one of the world's most pressing medical issues: antibiotic resistance. Our research has already shown that some medicinal plants are good sources of novel compounds that can be used to either enhance or restore the efficacy of existing classes of antibiotics.
About Dr. Quave
Cassandra Quave is Curator of the Emory University Herbarium and Associate Professor of Dermatology and Human Health at Emory University, where she leads antibiotic drug discovery research initiatives and teaches undergraduate courses on medicinal plants, food and health. Trained as a medical ethnobotanist, her research focuses on the documentation and biochemical analysis of botanical remedies used in the traditional treatment of infectious and inflammatory skin disease. She earned her B.S. in Biology and Anthropology from Emory University in 2000, her Ph.D. in Biology from Florida International University in 2008, and completed post-doctoral fellowships in Microbiology at the University of Arkansas for Medical Sciences (2009-2011) and Human Health at Emory University (2012). Her research has been supported by the NIH (T32, F31, F32, R01, R21s), Fortune 100 industry contracts, and philanthropy. To date, she has authored 67 original research articles, 14 review articles, 20 book chapters, 2 edited books and 6 patents. She uses her podcast Foodie Pharmacology to engage with the public on the topics of food, health and the food-medicine continuum. Dr. Quave is the co-founder and CEO/CSO of PhytoTEK LLC, a drug discovery company dedicated to developing solutions from botanicals for the treatment of recalcitrant antibiotic resistant infections. She provides consulting services through CLQ Botanicals, LLC; visit this link for more information.
Quave is a Past President of the Society for Economic Botany, an international society with the mission of fostering research and education on the past, present, and future uses of plants by people. She is a Fellow of the Explorers Club, a recipient of the Emory Williams Teaching Award and Charles Heiser, Jr. Mentor Award. Her research has been profiled in the New York Times Magazine, BBC Focus, National Geographic Magazine, Brigitte Magazin, National Geographic Channel, National Public Radio (NPR), and several major news outlets including the Washington Post, The Telegraph, CBS News, and NBC News. Follow her research updates on Facebook or Twitter.
Want updates on the Quave Group's research and posts on herbal medicine?
We need your help! Make a contribution to science by supporting our work.

You can make a tax-deductible charitable donation to support research underway at the Quave Research Group through our direct link to the Emory University Giving website. Donations are critical to supporting student research and training in the Quave lab. Help us make the next breakthrough in treating antibiotic resistant infections!
If you want to cite this website:
Quave, C.L. (2005 onwards) Quave Research Group Website. Version 14.0, July 2018. http://www.etnobotanica.us/.